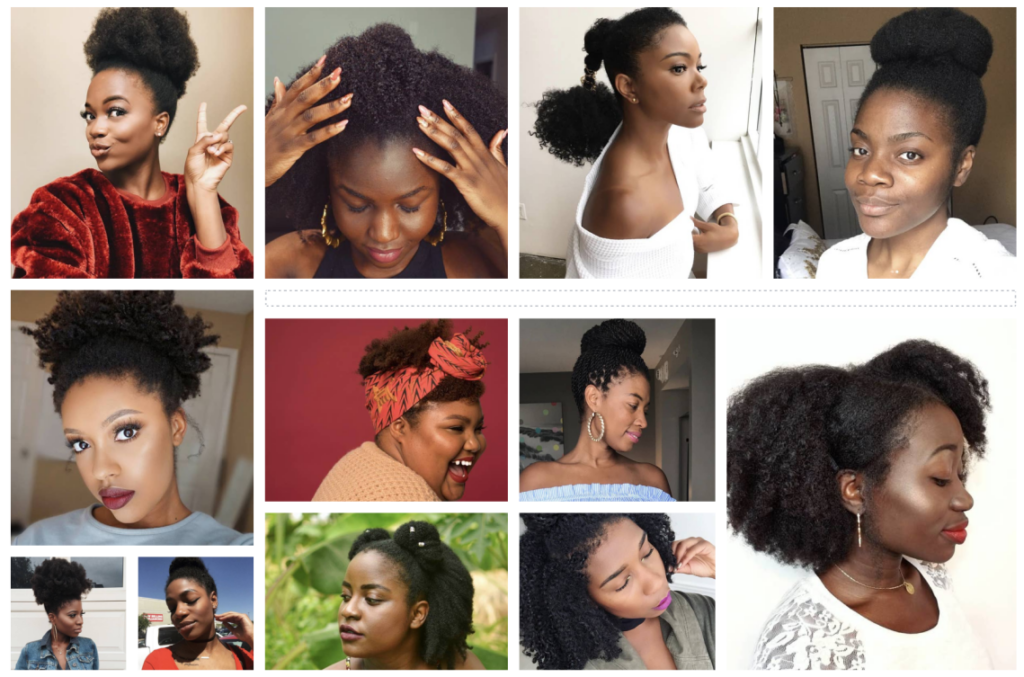 The internet is abuzz this week about the story of a woman who put Gorilla glue brand adhesive spray on her hair to lay down her edges when she ran out of the hair product she uses to get sleek edges.
Tessica Brown shared a short video of the horror she had been experiencing trying to get the glue out of her hair on her Instagram page. In the brief clip, Brown is seen sporting a super slick down bone strait pony tail  that she said had been styled like that "for about a month now" but "not by choice."
View this post on Instagram
She went on to disclose that because she did not have any Got2b Glued Blasting Freeze Hairspray  left to"keep [her hair] in place" she used the Gorilla glue instead only to end up having to wash her hair "15 times" but finding that still, her hair "doesn't move", she described.
Gorilla glue is a permanent, moisture-resistant, heavy-duty adhesive meant for "fabric, paper, wood, plastic, cardboard, foam, metal" and other surfaces other than hair.
Eventually, the 40-year old Louisiana native became a world wide meme and the butt of many jokes while concerned individuals, hair care and medical professionals offered advice.
She shared on her feed on Wednesday that she was traveling to California to finally get the glue removed and indeed got it removed today.
🚨 The Gorilla Glue is finally out of Tessica Brown's hair 🚨 https://t.co/GCn3VqTu9A pic.twitter.com/ZVRDDloUTF

— philip lewis (@Phil_Lewis_) February 11, 2021
Also, media reporting say that she may eventually sue the makers of Gorilla glue for not explictily indicating on the canister that it is not for hair use.
But that's not why I chose to blog about this sad ordeal.
There is a long sordid history surounding Black people with course hair who use hair gels and other chemicals to achieve a pressed bone straight hairline that is nothing like the texture of the rest of their natural hair.
It's a style preference with deep roots in racism and anti-Blackness.
I turn to Uhair Kenya for its expert run down of the sordid negative history associated with "edge control":
Unfortunately, the history of baby hair is rooted in racism. Black people were seen as inferior and so were their features, including kinky hair.

Gelling black hair and slicking down edges to imitate straight white hair was a reflection of the European standards of beauty.

Edge control started off as a way to slick the hair down to make it look less kinky. Then finger waves became the new black feminine look of the early 20's, using heavy product to shape hair at the edgeline into designs.

Flappers of the roaring 20's popularized the look.

The real Betty Boop was a black actress/singer named Esther Jones. Her stage name was "Baby Esther. source: 

A black singer named Baby Esther, the inspiration behind Betty Boop, was famous for her baby hairs that framed her face. Finger waves was a popular style that was meant to create a softer look to the bobbed hairstyles of the flappers.

Women's fashion was soft and feminine and so was their hair. To try and make edges look soft and feminine black women created various types of hairstyles throughout the early 20th century.

Josephine Baker source: Wikepedia

More softer looks began to replace highly sculpted hairlines in the 1930's.

Roller set up-do's became popularized by famous singers like Ella Fitzgerald and Billie Holiday during this time, styling baby hair was still a trend though not as heavily prioritized in the look.

Throughout the 40's and 50's, black hairstyles evolved into straight and swept back hairlines, the beehives of the 1950's and hair bumps of the 1960's.

American vocal group The Ronettes, comprised of Nedra Talley, Estelle Bennett and Veronica Bennett, later Ronnie Spector, circa 1960. (Photo by R. H. Vincent/Redferns/Getty Images)

Black women were styling their hair to make it look straight and flat as possible, at least until the 1960's socio-political Black power movement liberalized black hair from conforming to white beauty standards.

Instead black women were encouraged to start embracing their natural hair texture.

Afros became normalized and even celebrated as activists and stars like Angela Davis and Nina Simone rocked theirs.
The piece continues:
How Edges Changed

Black women began laying down their edges while keeping their kinky fros, the 1970's created various techniques to style baby hairs such as using toothbrushes or hair bristle brushes to frame their faces.

While some black women continued to straighten their hair it was no longer their only option. There was now another beauty standard black women could look to.

Latoya Jackson

Celebrities like LaToya Jackson and Bernadette Stanis were both iconic for laying down their edges.

Soon edges became an accessory to straightened hair, afros, braids, and all types of black hair. Instead of styling hair to make it look straight, baby hair could be used to accentuate black hairstyles. Baby hairs were taking on a new meaning to women.

Intricate hairlines started to incorporate more geometric shapes as the trends of the 80's transformed the style of the decade.

Patti Labelle in one of her elaborate and intricate geometric hairstyles of the 80s.

From Patti Labelle's elaborate spikes to Octavia St. Laurent's ballroom looks, these hairstyles dominated the hair scene.

Hair styles were becoming more unconventional and creative.

Jheri curls used heavy chemicals to curl the hair that gave famous stars like Michael Jackson and Ice Cube a curly wet look and laying baby hairs gave black girls a more stylish version to this.

The 1990's drew styles from trends of the past and modernized them. The one constant throughout the decades was a laid hairline
The natural hairline movement
Sometime in the mid 200s came a movement encouraging black women to buck the pressure to wear sleek down their baby hairs and to opt for the natural hairline. The movement bucked the subtle and overt messages from racist and prejudiced beauty standards internalized by the black community itself which often times was the main source of scorn among women from within seen with kinky edges.
The collage in this header is a compilation of images sourced by Buzzfeed back in 2018 of women who happily and nappily sported their natural edges and said no to edge control.
No judgment if that's your thing but it's still great to highlight and elevate the natural hairline at a time when everyone is laughing a woman who took extreme measures to live up to that European standard and ideal.
Jeneba Jalloh Ghatt can be heard nightly at 8pm on DCRadio/WHUR 96.3HD4 on "Coming to America with Wayna and Friends. She is an editor at Techyaya.com, founder of the Digital Publiching Academy and JayJayGhatt.com where she teaches online creators how to navigate digital entrepreneurship and offers Do-It-For-You Blogging Service. She manages her lifestyle sites BellyitchBlog, Jenebaspeaks and JJBraids.com and is the founder of BlackWomenTech.com 200 Black Women in Tech On Twitter. Her biz podcast 10 Minute Podcast is available on iTunes and Player.fm. to Follow her on Twitter at @Jenebaspeaks. Buy her templates over at her legal and business templates on Etsy shop!