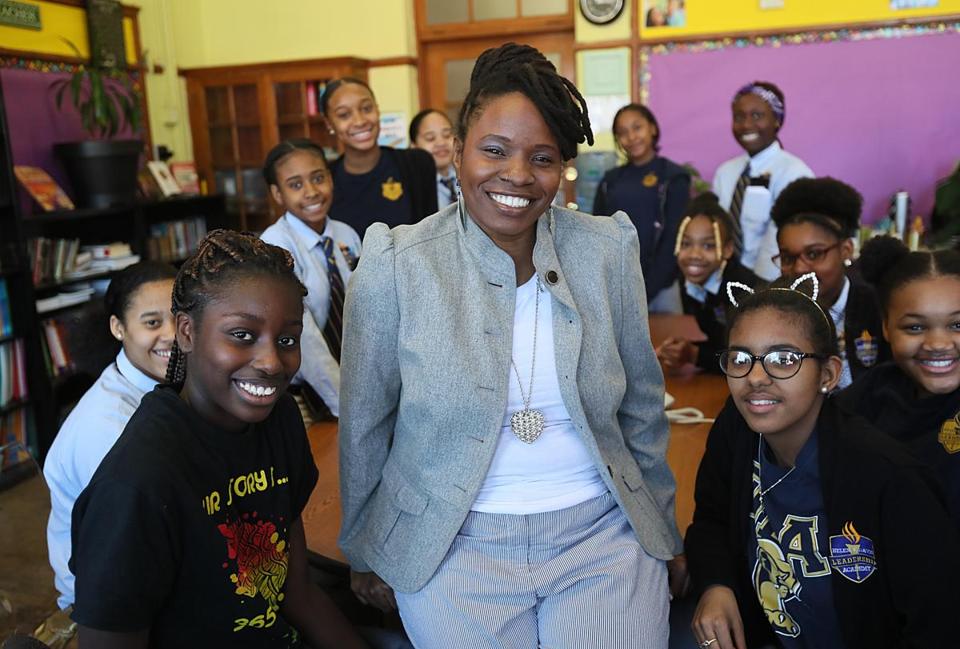 When Massachusetts teacher and singer Lovely Hoffman overheard female students at her predominantly black middle school talking negatively about their appearance, a common occurrence among girls of color who are surrounded by European beauty standards, she decide to do something about it.
One of her students Michayia Howard, whose mother affectionately calls the 14-year-old "chocolate drop," recently heard a classmate at Helen Y. Davis Leadership Academy say: "I don't like dark skins or brown skins. . . . I would only choose white skins."
Hoffman composed a song to uplift the girls and solicited about of dozen students to star in a music video for the song, titled "My Black is Beautiful".
The song and video covers the challenges that young black girls and women dealing with  their hair texture, weight and skin tone and feeling inferior or unattractive. In the video, the girls are seen examining themselves in the mirror as Hoffman, who wears locs herself, serenades them. It's all about embracing self and looking to sources for positive affirmations.
"This song was on my heart for three years. I sat down at the piano and said, 'This is what I have to write,' " Hoffman told the Boston Globe.  "As an educator, my job is not only to make sure students master their academics but also to educate the whole child."
And for three minutes and 27 seconds, she does that through song, writer Akilah Johnson notes.
"Look at her hair. Look at her braids. Look at her eyes. Look at her nose. Look at her 'fro. But it's all about me," Hoffman sings in the video as the camera cuts to images of her students, showing a tapestry of complexions and hair textures, in the school's hallways and classrooms.
"Who are you to say that I'm not beautiful?" she continues. "It's your own insecurity because I know and I believe: My black is beautiful."
The accompanying video is also a wonderful celebration and it's marvelous to see educators who get it and are doing something about helping children deal with their insecurities and learn to embrace their whole selves as is.
"There is a strong correlation between self-esteem and student achievement," Hoffman said in a press release about the son. "As an educator, I believe it is my duty to not only ensure students are reaching their potential academically, but that they are also comfortable and confident in their own skin. It's about educating the whole child."
h/t
Curly Nikki
[Side Note: Oftentimes, people in the mainstream society who are privileged to see representations of themselves in film, media, magazines, beauty pageants and the like take it for granted. Some also feel resentful to campaigns like Black Girls Rock, Black Girl Magic, My Black is Beautiful, Black Lives Matter, BET Awards and Miss Black America and refer to them as "racist" (which is an incorrect term for efforts to celebrate those who are never celebrated).
It's perplexing because they live their lives oblivious to the fact that for centuries there was only one standard and they not once noticed or complained about centuries of exaltation of the majority's features to the exclusion of other cultures.
The failure to acknowledge that social conditioning damages young girls' self of worth and self esteem. Organizations, campaigns, initiatives and institutions that are created to combat the negative impact are much needed and should be applauded even if not everyone is included.
It's only those who are accustomed to being included and involved in everything who get turned off. For them, it's hard to just sit back and  let others be celebrated and uplifted without butting their nose and turning a good thing into a bad one in their brains]