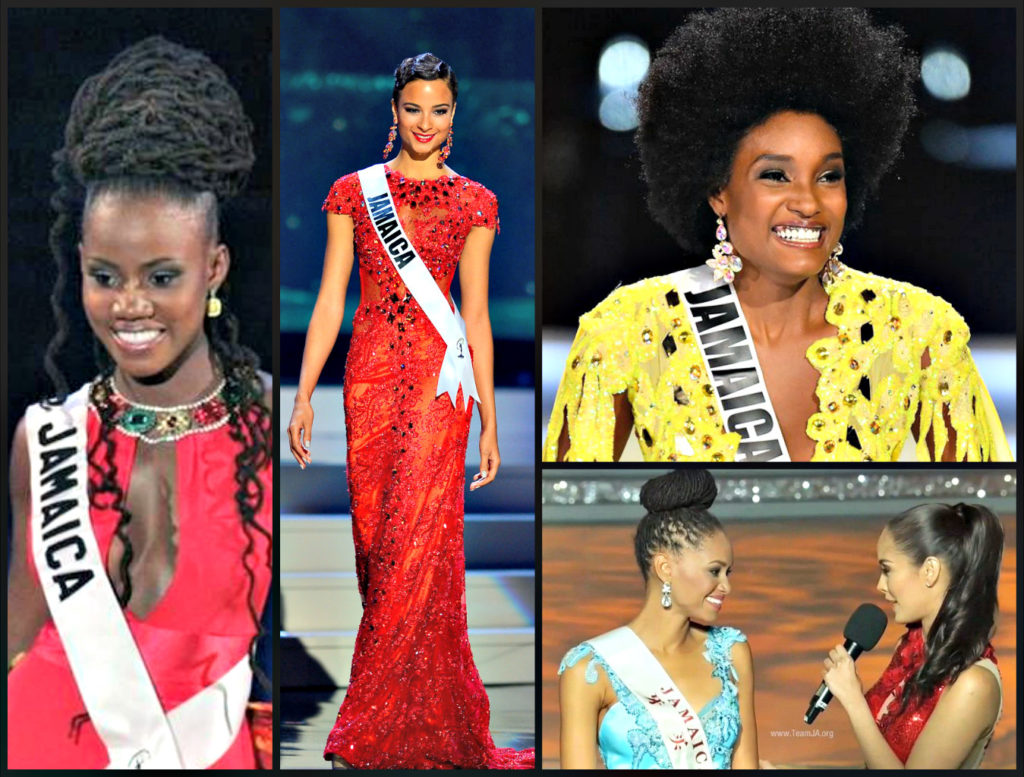 This Sunday, Miss Jamaica Davina Bennett stunned audiences worldwide at the Miss Universe 2017 pageant in particularly because she was rocking a fierce Afro!
It is unprecedented and the first time in history of international pageants of that magnitude that a contestant wore her hair in an Afro.
I literally had chills seeing this beauty grace my screen in all her glorious halo of hair.
Bennett came in second runner up, which itself is quite a feat considering the standard of beauty for these pageants includes straight long hair, thin bodies and angular facial features, the closer to European, the better the odds of making it to latter rounds.
But alas, this is not new. For those who don't know,  Jamaica has been a hair trailblazer in these pageants for years.
Miss Jamaica 2007 Zahra Redwood sported locs during Miss Universe in 2007, the first time ever that hair style was worn by a contestant in Miss Universe and she too made history as the first Rastafarian to compete for the title.
Seven years later, Miss Jamaica Kaci Fennell stood out at the Miss Universe 2014 competition in short cropped hair. Audible boos could be heard from the crowd when she lost the crown and came in 5th runner up.
Like this past Sunday, back then, a lot of people in Twitter and world wide claimed Fennell was robbed because she didn't sport long flowing hair, the pageant industry standard.
A year later at the Miss World pageant, Miss Jamaica again Sanneta Myrie beat out 99 other contestants and came in the top 5 at the pageant that took place in Sanya, China that year and she too was wearing locs.
And they're all usually pretty smart and accomplished women. Myrie is a doctor, Redwood is currently a PhD candidate in Australia, Fennell a TV host and Bennett is a second-year marketing student at the University of the West Indies who has established a foundation for the hearing impaired called The Davina Bennett Foundation For The Deaf.
She wowed people with her answer to the Q&A round.
The top 3 contestants were asked what was the one quality they had that they were proud of and they would use it if they were crowned the winner.
The winner, Miss South Africa Demi-Leigh Nel-Peters, answered: "As Miss Universe, you have to be confident in who you are as an individual. A Miss Universe is a woman [who] has overcome many fears, and, by that, she is able to help other women overcome their fears. She is a woman that nothing is ever too much to ask for, and I think that is exactly who I am."
Meanwhile, Bennett answered: "The quality I am most appreciative of is my drive, my determination. I am the founder of a foundation that spreads awareness for the deaf community, and this platform is such a great platform to just let [people] know that these persons need opportunities and equal opportunities like those in society. And so the Miss Universe competition will be the platform for me to use this foundation to spread awareness for all the deaf people around."
Ok. No shade to the winner, but we can see why people felt Bennett's response was superior. Oh well! There is always next year.
By the looks of the pattern and precedent Jamaica has established, I cannot wait to see who Jamaica will send to international contests next year! Go Jamaica! Show them how to break down those beauty barriers!