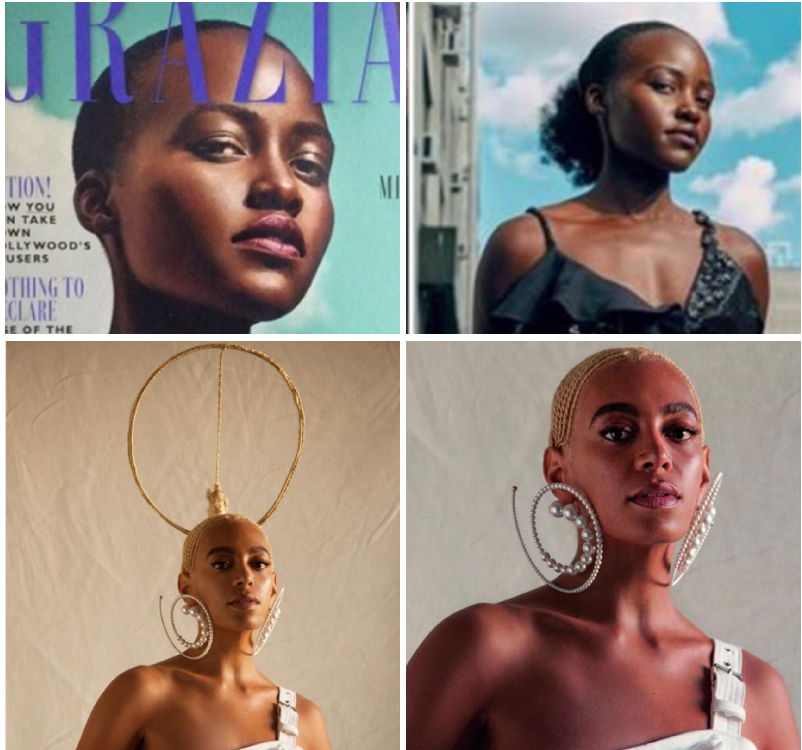 For the second time in two months, a British magazine has decided to edit the hair of a Black Celebrity to fit its standards of what is attractive and acceptable.
This month, Academy Award Best Supporting Actress winner Lupita Nyong'o had to lash out at UK's Grazia magazine for adding hair to the buzz cut she wore for a recent cover photo shoot at the magazine.
The Star Wars: Episode VIII star was recently named PEOPLE magazine's "Most Beautiful Woman" and  has been hailed in recent history as being a refreshing welcome to the fashion industry which long has omitted women of color in their natural state and has not celebrated black women wearing their natural curly or kinky natural hair.
"As I have made clear so often in the past with every fiber of my being, I embrace my natural heritage and despite having grown up thinking light skin and straight, silky hair were the standards of beauty, I now know that my dark skin and kinky, coily hair are beautiful too," Nyong'o started her rightfully sharp critique of the magazine's actions. "Being featured on the cover of a magazine fulfills me as it is an opportunity to show other dark, kinky-haired people, and particularly our children, that they are beautiful just the way they are."
The star of the upcoming and highly anticipated Black Panther movie let the magazine know how upset she was that the mag editors removed what makes her beautiful and a role model to other girls around the world.
The Star Wars star continued: "I am disappointed that @graziauk invited me to be on their cover and then edited out and smoothed my hair to fit their notion of what beautiful hair looks like, Had I been consulted, I would have explained that I cannot support or condone the omission of what is my native heritage with the intention that they appreciate that there is still a very long way to go to combat the unconscious prejudice against black women's complexion, hair style and texture. #dtmh" (short for "Don't Touch My Hair")
This is the second time in a few months that a magazine decided to edit out ethnic hair from its cover.
UK's  Evening Standard Magazine did the same thing last month when it cropped out the braid halo on Solange's.
The "Cranes In the Sky" singer and Grammy-Award Winner called out the magazine in an October 19th post on Instagram showcasing the unaltered version of her cover photo with the caption 'DTMH' which was about her famous song called Don't Touch My Hair.
Also, this is the crappy apology that the magazine released, while shedding responsibility for their actions and role. Um try again, Grazia!