Braids are an easy and so pleasant way to forget about hair styling for months, give your hair some rest and protect it from harsh environmental factors. Besides, with the awesome hairstyles listed below you will attract attention, admiring glances and sincere smiles.
Braided hairstyles make space for creativity. There are many interesting braiding techniques to make every head unique. Besides, you can experiment with highlights, natural or curly texture, clips, patterns, shapes, etc.
Natural perm and hair thickness is your big plus and a unique bonus that you simply can't leave unused. Your hair, that you might have been complaining of before, is created for braids. So why not use this idea to your advantage?
African hair braiding is very versatile: microbraids, cornrows, fishtail braids, blocky braids, black braided buns, twist braids, tree braids, hair bands, French braids and more are at your disposal. Once you pick a desired braiding style, thickness and have your hair braided, you may shape your braids into gorgeous hairstyles both for every day and special events.
Researchers say that braids were "in fashion" even 2000 years b.c. If they have survived till our time, there definitely must be something special in them, don't you think? Every year world-famous designers experiment with braids at fashion shows, Youtube videos with braiding tricks get millions of views, and pictures with braids get more likes than photos with any other hairstyles! Need new inspiring ideas? We've rounded-up some trends and picked the best images from the top hairstylists around the world. Read on!
Popular Trends in Black Braided Hairstyles
Fashion shows are always inspiring, yet when it comes to clothes, we need to wait at least till March to find out what to add to our lookbook. As for the hairstyles, things are much easier here. Luckily, popular Instagram influencers and celebrity hairstylists bring some new fresh ideas into life EVERY day. So, you may read our articles, get inspired and try on new images already now. Some braided hairstyles that always work:
– Tight and edgy cornrow styles, cornrowed buns. Cornrows have been always considered as a rather casual hairstyle, but now when they are in Couture collections, it's high time to rock them.
– Wrap-around braids and twists for black hair with feminine accessories. These are loose, messy and inspired by Boho chic.
– Very loose whimsical braids for long hair. The braid that starts from mid-shaft is not noticeable in the front and looks sloppy in the back.
– Low braided buns. Braided bun updos are always an extra charge of elegance to ennoble even the simplest outfit.
– Twisted rope braids. These dimensional braids are ideal for long thick hair. They look very interesting, unhackneyed and worth a try.
The Most Gorgeous Black Braided Hairstyles
Now it's time to check out the cutest ideas of braided
#1: Criss-Cross Goddess Braids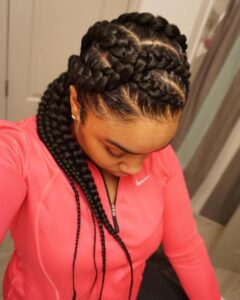 Chunky cornrow braids, referred to as goddess braids, are perfect for days when you want to give your hair a break or when you are going on a beach vacation and would rather not worry about styling your strands every morning. The great thing about the braids of this size is that they don't take too long to do and are easy to take out.