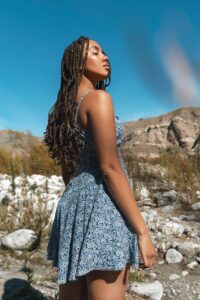 Box braids are good for natural tresses that need a break from heated styling and are a fun way to change up your look if you're bored. The reason why they're so popular is to do with the fact they require less attention than natural hair and allow you to get creative with colour and styles without any commitment.
You're probably already seeing it everywhere: your favourite Instagram stars and celebrities wearing box braids on their natural hair. And If you're a braid virgin, you might be wondering whether box braids are good for natural hair and how you can properly look after them. Luckily for you, we're here to help!
Read on to find out if box braids are right for you, how to take care of them and see all the braided looks we can't get enough of.
If you're wondering if box braids are good for natural hair, the short answer is: it all depends on the state of your natural hair. While they certainly make a great protective hairstyle and also help you retain length, they are better suited to those who don't have issues with severe dryness, thinning or scalp conditions.
No matter your hair length, there's a lot of stunning box braids you can try with your natural hair. Click here to see our favorite examples for 2021.